Far West Elite XC Ski Team member, Spencer Eusden shares his take-aways from Vo2 testing at Silver Sage Sports and Fitness Lab…A few weeks ago I went down to the Silver Sage for their VO2 Max testing. This test measures the maximum amount of oxygen your body can use per unit time relative to body weight
I was excited to try this test out again since the last time I had done it was my senior spring of high school (May of 2008).  In the 6.5 years since I last measured my VO2 Max, I've logged close to 4,000 hours of training. So I expected to see some level increase in the test score. That being said, after puberty your VO2 Max tends not change as much with training as it does during puberty. (I had mostly stopped growing when I took the test in May of 2008)
The Results:
| | |
| --- | --- |
| Date | VO2 Max mL/(kg*min) |
| May, 2008 | 62.0 |
| November, 2014 | 67.5 |
Hard work pays off!!! In my case every 730 hours I trained I increased my VO2 Max by one point. In reality, high intensity intervals, which we do mostly in the fall to get ready for ski racing, have a much larger impact on an athlete's VO2 Max than the sheer number of hours trained. My main training focus this fall was to do lots of quality interval workouts, in order to be ready to race fast once the season started. Historically, I have been slow to reach peak racing shape, not usually until February. These test results showed that I was well on my way to starting the season off well. This was confirmed this past weekend at the first races of the year in West Yellowstone, MT with my two fastest November races ever.
Beyond just testing my VO2 Max, the crew at Silver Sage used the data from my VO2 Max test to refine my training zones. With their feedback, I changed the ranges of  my heart rate zones, which I will hit in different types of intervals. The goal is that these adjustments will help me continue to increase my VO2 Max and race even faster this winter.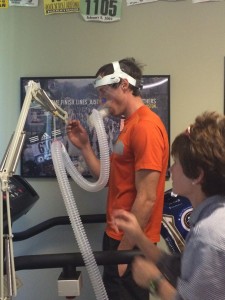 CAPTION Spencer strapped in and ready to for the VO2 Max Test. The test measures the gas composition of exhaled air to calculate the amount of Oxygen used.
http://new.silversagecenter.com/wp-content/uploads/2014/12/spencer.jpg
2048
1536
Michelle Faurot
http://new.silversagecenter.com/wp-content/uploads/2019/10/SS-Logo-Sports-and-Fitness-Lab-horizontal-300x68.jpg
Michelle Faurot
2014-12-01 14:16:13
2015-01-21 07:27:39
Measuring Progress: VO2Max Testing