Photography by Daphne Houghard
Sian Turner Crespo grew up immersed in sports, from figure skating and field hockey to golf, tennis and cricket.
As a young adult, she discovered competitive cycling and jumped into XTERRA races, qualifying for both the U.S. and World Championships in her first season in 2011. She quickly progressed in the XTERRA ranks, and in 2014 (and 2015) achieved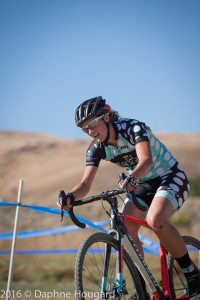 national championship titles and 4th places at Worlds.
You could say she knows a thing or two about how her body works and what she has to do to stay competitive.
And one of the things she does is train with Julie Young of Silver Sage Sports & Fitness Lab. "It's definitely about having someone to be accountable to and to be able to give feedback and bounce ideas off of," she says. "But Julie also brings the experience and expertise of being a world-class athlete herself. She plans my training workout-by-workout, but also looks at the big picture with an annual plan."
Crespo has been training with Young for the past four years, pretty much year-round. "We might take a month off every now and then for a mental break, but then we're back at it," she says.
Crespo started as an endurance cyclist, but she recently switched to cyclocross, a very short, yet intense cycling discipline. "It's a totally different deal and my training had to be adjusted accordingly," she says. "I realized I didn't have the top-end strength I needed to be competitive so my training plan changed with a specific focus on that kind of racing."
"Sian is committed — to her sport, her training and herself," Young shares. "And that was evidenced in her continual improvement in her new sport, resulting in a win of her last race of the year."
In addition to her regular training, Crespo goes through testing once or twice a year so that Young can measure her lactate levels, bike power and other elements. Then Young tweaks the plan to accommodate any changes the testing reveals.
"Julie knows me and what I'm capable of. She combines that with the science and data she has accumulated to put together a training plan specifically for me," Crespo says.
Now in her off-season, Crespo is focused on strength-building. "I'm getting in the gym and getting stronger," she says. "This way my body will be ready to train at a higher intensity when the season starts."
Young also listens to Crespo's goals. "She knows what I want to achieve and then helps me get there," Crespo says. "And she has so much experience herself that she can pass on the tactical aspects of being in the race."
"Everybody is different and so everybody needs a plan specific to their own abilities and goals," Young shares. "We look at their current lifestyle, work and family demands and their goals to create a plan that will get them there."
Young says that communication is key to the training process. "It's essential that I understand what they're going through, where they're struggling and where they're excelling. I also need to know what in their personal life might be holding them back. This allows me to provide proper motivation that works."
Crespo echoes that: "She can tell where I'm at and if I'm telling the truth about my workouts. She picks up on signs and will let me know when I need to push harder or back off and rest."
Young stresses that fitness and improved performance should be a lifestyle not something to tick off a bucket list. "Training is a process that takes consistent commitment and patience," she shares. "You have to love it for what it does for you on a daily basis which, ultimately, leads to a healthier overall life."
For more information on Silver Sage's endurance coaching and training plans, click here. And then contact us at 530-448-0498 for a free coaching consultation.
http://new.silversagecenter.com/wp-content/uploads/2017/01/20161001_CycloX-141.jpg
720
1080
Michelle Faurot
http://new.silversagecenter.com/wp-content/uploads/2019/10/SS-Logo-Sports-and-Fitness-Lab-horizontal-300x68.jpg
Michelle Faurot
2017-01-30 07:40:34
2017-01-30 11:32:25
Sometimes, it's more than just listening to your body