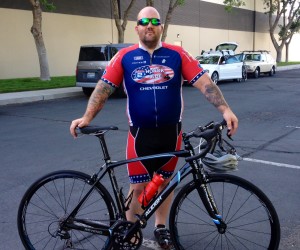 My Name is Corey Blatchford, and I am a Medically Retired Veteran.   I served close to a seven years in the US Army as a 12B Combat Engineer.  I entered the Army in 2004 to support and defend my country.  I was deployed to Iraq in 2006-2007 for 15 months, and on my last month there I was hit by an IED that damaged my left shoulder and left me with Mild Traumatic Brain Injury.  Since then I have undergone 4 surgeries and endless amounts of therapy.
When I was retired from the army I felt a lot of loss and pain both physically and mentally.  Coming home I felt really alone and thought that I would never be able to find an outlet for my pain. To help with my injuries and PTSD I found a program called Ride2Recovery.  Bike riding helps with my weight and also helps with my mental health. When I am riding I am able to be calm and enjoy life.
I recently was donated a new bicycle and needed a FIT. Julie Young of  o2Fitness/Silver Sage Sports and Fitness Lab located here in Reno heard about my new bike and sponsored aPro Fit to ensure over-use injury prevention, and maximize my comfort and power output. From the moment I stepped into her office I felt calm and relaxed. She was very attentive to my concerns and what it would take to lessen the pain of my injuries while riding. Thanks to Julie I have now added more miles and faster ride times without being in pain that I would have had I not had the Fit done. Thank you for everything and thank you for your continued support in the Ride2Recovery Program.
http://new.silversagecenter.com/wp-content/uploads/2014/06/ridetorecovery.jpg
1070
1280
Michelle Faurot
http://new.silversagecenter.com/wp-content/uploads/2019/10/SS-Logo-Sports-and-Fitness-Lab-horizontal-300x68.jpg
Michelle Faurot
2014-06-30 07:11:15
2015-01-21 07:24:24
Ride2Recovery