Contributed by Silver Sage sponsored, Reno Wheelmen racer, Coby Rowe
I decided to hire a coach for Cyclocross as I found myself loving cycling even more.
I started working with Julie Young in late spring 2014.  I had really come to love Cyclocross and wanted to get faster to move up into Category 3 with the goal to someday compete at Nationals.  Prior to working with Julie I had been doing some crossfit and recreational riding, but nothing focused on real improvement.  My goal with Julie all along has been the 2015 cyclocross season and I have been focused on improving specific races so I can earn the much needed USA Cycling points to upgrade categories.  The training was a shock to my riding and body.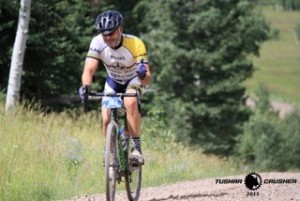 I registered for the Crusher on the Tushar for fun to ride with some friends and continue my training.   After 70 miles of gravel and pavement with 11,000ft of climbing I felt surprisingly good.   The bike fit and all the training I had been doing that was focused on the fall Cyclocross season had made the hardest ride I've ever done, enjoyable.   Years of recreational riding around the Reno/Tahoe area were fun,  but had I done the Crusher without the experience and fitness I gained from training with Julie,  I would have suffered.  It was this realization after the Crusher that really changed my outlook on having a coach to help my riding!
Equipped with the tools from Silver Sage services including physiologic testing and bike fitting, plus the  workouts that Julie Young provided for me have helped me to really enjoy riding.  It makes  that extra 10 miles feel a ton easier.  It makes exploring gravel roads around Tahoe on your Cyclocross bike better and faster.  These benefits were never a target of mine when I started working with Julie Young but they make every pedal stroke more enjoyable.
http://new.silversagecenter.com/wp-content/uploads/2015/08/coby.jpg
214
320
Michelle Faurot
http://new.silversagecenter.com/wp-content/uploads/2019/10/SS-Logo-Sports-and-Fitness-Lab-horizontal-300x68.jpg
Michelle Faurot
2015-08-31 13:54:17
2015-08-31 13:54:17
For the Love of It