Renee Elsdon Jacobs had been struggling with Iliotibial Band Syndrome (ITBS) for more than two years. This occurs when the iliotibial band, the ligament that runs down the outside of the thigh from the hip to the knee, is tight or inflamed.
Renee wasn't sure what caused it, but it was creating tension in her knee joint, greatly affecting her ability to run or do many of the other physical activities she enjoyed.
She saw several physical therapists, multiple chiropractors and massage therapists to try and treat it, but nothing worked. Until someone in her running club, the Donner Party Mountaineers, recommended Julie Young and Silver Sage Sports & Fitness Lab.
"I had done a gait analysis before, but nothing like what Julie did," Renee shared. "Julie used software and video and angles to figure out what was going on."
Julie, who was a top international cyclist for 12 years, and is currently a competitive cyclist and trail runner (recently winning a 50K Trail National Championship), conducts gait analyses as the director of Silver Sage Sports & Fitness Lab.
"Running, like gymnastics or swimming, is a whole body sport. It requires a body that's stable and mobile," Young shares. "A comprehensive gait analysis can give a runner a visual impression of weak links in movement and strength, which helps them understand why they should invest in activation, stability and mobility work, which typically falls through the cracks. This visual impression helps motivate a runner to get on the mat and be more committed and purposeful in this work,"
A comprehensive analysis pinpoints specific strength and movement deficits in a runner's gait. Once identified, a specific and individualized training plan is developed to improve these underlying deficits, while changing as little as possible in a runner's gait technique. This can reduce a runner's risk of injury, build strength and increase a runner's efficiency and performance.
Through Silver Sage's scien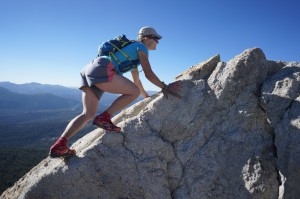 ce-based approach to gait analysis, Julie was able to determine that Renee was tilting her torso back during her stride, which meant she was placing too much load on her quads and knees, and preventing her glutes from firing.
"Julie showed me a couple of exercises that made it obvious what was going on," Renee shares. "I slightly tilted my torso when I run, which causes my glutes to fire, and creates stability down the chain. I had the muscles in place, they just weren't working properly."
Julie gained much of her knowledge from participating in a six-month fellowship at the University of Southern California's Movement Performance Institute (MPI) and now follows up with yearly update courses. MPI, headed by Dr. Christopher Powers, conducts ongoing research on human biomechanics. Using state-of-the-art technology, Young has gained hands-on experience in identifying underlying movement impairments in a person's gait.
"As a result of his extensive research, Dr. Powers is one of the few physical therapists I know who actually has a protocol for diagnosing injury (uncovering the source, not just the symptoms) and providing a methodical, systematic protocol to return injured runners to their sport," Young said. "Dr. Powers' system strives to uncover specific strength deficits and movement impairments that are causing pain, and or have the potential to lead to injury and inhibit performance. It focuses on precisely pinpointing the affected musculature and movement patterns and improving them through activation, stability, mobility, strength and movement re-training, while changing as little as possible with the individual's gait."
Within a week of her visit to Julie, Renee was able to run a 50K, from Mellow Fellow in Kings Beach to Mellow Fellow in Truckee. "Before that I couldn't complete 15 or 20 miles without aggravation," she says. To be safe, Renee had her husband on standby to come get her if it became necessary.
"I just kept texting him to tell him I was still running," she says.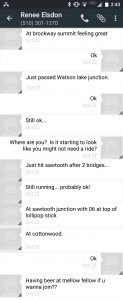 For more information on Silver Sage and the Dartfish Gait Analysis program, visit www.silversagecenter.com.
http://new.silversagecenter.com/wp-content/uploads/2016/12/GOPR0647.jpg
1345
2891
Michelle Faurot
http://new.silversagecenter.com/wp-content/uploads/2019/10/SS-Logo-Sports-and-Fitness-Lab-horizontal-300x68.jpg
Michelle Faurot
2016-12-14 19:34:01
2016-12-14 19:36:52
When Muscles Aren't Firing Properly