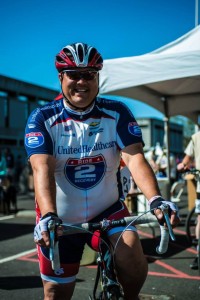 We at o2fitness Coaching and Training and Silver Sage Sports and Fitness Lab are proud to sponsor Ride2Recovery and Project Hero.  Below is a brief overview of these life-saving programs, followed by a testimonial from, Wes Washoe, one of our sponsored Ride2Recovery athletes.
Ride2Recovery's mission is to improve the health and wellness of injured veterans by providing a life changing experience that can impact their lives forever.
The Project HERO (Healing Exercise Rehabilitation Opportunity) Program supports Spinning Recovery Labs and outdoor cycling programs presently at different military hospitals, Warrior Transition units, Wounded Warrior Units and VA locations around the United States and in Germany to help injured veterans overcome the obstacles they face.
Cycling is an important part of the recovery and rehabilitation program for many reasons…
Cycling is an activity that almost all patients with physical and/or psychological disabilities can participate at their individual level.
Ride2Recovery Project HERO provides expertise, training, events and site location support to promote a fuller recovery in the rehabilitation process.
Specially adapted bikes are designed and built by Ride2Recovery to suit individuals needs, making it possible for almost everyone to participate in the program.
Now…a word from Wes Washoe.
Wes Washoe, a Navy Veteran, has cycling in his blood. From working in the industry, weaving through the streets as a bicycle messenger, to working himself up to a Cat 2 racer.
However, during and following his military service Wes sustained some injuries that made cycling difficult, and physically and mentally painful.
That was his reality until he found Ride2Recovery (R2R), a cycling program for disabled veterans.  Since joining Project HERO City of Reno, Wes has found his love for cycling again, participating in R2R Honor rides, local club rides, and competing and receiving a medal during the cycling competition at the Valor Games Far West event in Alameda, CA this past June.
Although Wes was back on his bike, he was still struggling with physical pain during his riding which prompted a visit to Julie Young at Silver Sage Sports and Fitness Lab, to review his fit.  Right away Wes felt the pain in his knee reduced by the changes Julie made during this comprehensive fit.
Wes' next cycling goal is to race in a criterium
again. Another cyclist saw Wes' desire to race again and has offered to ride tandem with Wes during the last Reno Wheelman Tuesday night twilight series…happy training Wes Washoe!
http://new.silversagecenter.com/wp-content/uploads/2014/07/photo-3.jpg
960
640
Michelle Faurot
http://new.silversagecenter.com/wp-content/uploads/2019/10/SS-Logo-Sports-and-Fitness-Lab-horizontal-300x68.jpg
Michelle Faurot
2014-07-30 15:00:52
2014-07-30 15:00:52
Once a Racer, Always a Racer